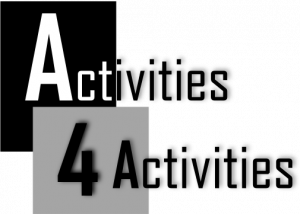 Community activity, fundraising for great student activities.
The A4A program is a parent-driven initiative which aims to enable new and diverse activities for students. It does this by parents hosting fun activities for other parents, students and the community in order to raise funds. The aim is to support new and varied experiences for TGSHS students. The program taps into the skills and interests of the community to support engagement, entrepreneurial leadership, creativity, innovation, and well-being. Watch the video. Or See school website.
How does it work?
In brief, parents (or others) volunteer to run "activities" for parents, and/or children/staff. Activities can be run anywhere, including at school. A small per-person fee is paid by participants. The activities are as diverse as human interests: DIY gift-making, wood-fired pizza, gardening, bicycle maintenance, yoga, cricket, soccer game, programming for kids, pottery, photography, i-phone skills, treasure hunts are all possible.
How is money raised?
Costs are covered by the activity. Sometimes school resources/facilities enable the activity. Sometimes local business may support activities. A good example is the Gap Ninja Warrior 2018 night where 60 participants raised over $700, with support from Moon Lee Tae Kwon-Do and Ritual HQ Gym Watch the video. The P&C approve activities, arrange insurance, support bookings, disburse collected monies, and report annually.
More information: Please contact Steven Kenway (TGSHS P&C) A4A@tgshspandc.org.au 0419 979 468.
(Note: we are always seeking additional activity hosts – contact Steve if interested)
Upcoming Events?
"Sculpt and Pour" will be conducted on Thursday 29 October 6:00-8pm.

Interested in joining the A4A Meetings?
We have 4 planned meetings per year, plus other meetings on as-needs basis.
Dates of upcoming meetings.
Tuesday 27 October (7-8:30pm). We are also providing a zoom link from 7:30-8:30 primarily to talk about the plan for 2021. Please email or text Steven on 0419979468 for full details of meeting location and zoom link.